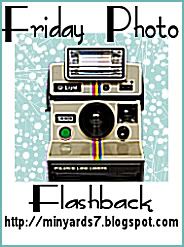 Alicia
is hosting Friday Photo Flashback again. This is your chance to give a shoutout to the past. To showcase some of your favorite photos, or most embarrassing ones, or whatever! So join up with us today!
This photo is from way back who know when, but I love it!
from left to right Some crazy Friend of my Dad,
the crazy man's Wife,
My Papí and My Mamí...
I love how my Father is smiling directly to the camera
and my Mom has her arms around his.
They are such a HAPPY couple then and now.
They have been marry for 48 beautiful years!!!<---WoW! iSay every time I hear that number. They are and look AWESOME together! don't you think?

(Click on the image to view at full size)
Oh! one more thing, did you see my Mom's shoes I thing they were CUTE!